Podcast: Play in new window | Download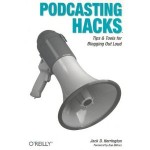 In this episode of the 3-Minute Book Review we have a look at Jack D. Herrington's book, Podcasting Hacks.
The most useful portion of the Podcasting Hacks book is by far the chapter looking at the different formats that you can use when producing a podcast. It provides a good place to begin thinking about how you want to produce your podcast and the many options open to you. Some of the format varieties talked about are:
Beercast
Sports
News
Theatrical
Magazine
more …
The biggest limitation of the book is that it was published back in 2005, so given that a lot of the topics covered are technology related the age of the book seriously handicaps the usefulness of some of the content. Many of the sections in the book can be skipped as it talks about software and tools that have been discontinued, replaced, or dramatically updated. Quite a few of the web-sites referred to in the book are also no longer around.
Podcasting does for Internet audio listeners what TiVo does for television viewers–it puts you in charge of when you enjoy a program. Podcasting is a web-based broadcast medium that sends audio content (most commonly in the MP3 format) directly to an iPod or other digital audio player. You subscribe to audio feeds, receive new files automatically, and listen to them at your convenience.
Although I did enjoy reading the book my recommendation would be to pick it up from your public library or try to borrow it, rather than spending your money to buy it. Given the age of the book I feel that it is not worth spending the money on a full book when only one or two chapters are still relevant.