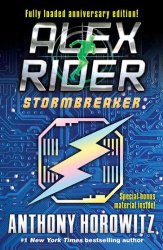 As my son has entered high school (year 7) here in Australia we are presented with some challenges when it comes to the books that he reads and is exposed to. This year one of the assigned readers is Stormbreaker (Alex Rider) by Anthony Horowitz. My wife and I are both a bit concerned about the suitability of this book for our 12-year old son.
Some of the reviews that we have read online about it that give us hesitation are:
it is full of all the things that I do not want to promote in the collection for which I am responsible: violence, consumerism, and a disrespectful protagonist. They get enough of this is every other form of media. (Children's librarian on Goodreads)
Common Sense Media warns of violence, consumerism, drinking, drugs, and smoking:
Parents need to know that this has all of the violence, though none of the sex, of a James Bond movie. (Common Sense Media)
Although Focus on the Family doesn't give a specific "Yes or No" rating for the book, the do say this:
Stormbreaker is written for kids ages 12 and up. The age range reflects readability and not necessarily content appropriateness.
About the profanity and graphic violence of the file they state"
Alex curses about his circumstances, though no swear words are seen in the text at that point. H—appears several times, sometimes as a curse word but more often to describe something horrific. The word d–n is also found a time or two. When Sayle says his jellyfish reminds him of himself, Alex asks if it's because jellyfish have no brain, no guts and no anus. The book contains several disturbing descriptions, including that of the tongueless Mr. Grin whose mouth was deformed in a knife-throwing accident, a man crashing his motorcycle into an electric fence and an account of Sayle's jellyfish wrapping itself around and killing Sayle's assistant. Alex is involved with shootings, fiery car crashes and plane explosions. Russian assassin Gregorovich kills people without thought. He urges Alex to get out of the spy business and go back to school, because killing is for adults.
Based on what I've read about the book, and the trailer for the movie that was produced in 2006, I don't think I am too keen on my son reading it. A movie where the main character is driven to violent action by a desire for revenge is not high on my lists of literature for my son to read …